Samsung Galaxy S10 G977F 5G 256GB – Majestic Black DE
5G takes 4G connectivity to the
next level
For years, 4G connectivity has delivered data to our mobile devices, enabling the streaming, downloading and gaming we rely on every day. 5G can take that connectivity to new, unprecedented heights, resulting in unheard-of download speeds and better network reliability for millions more devices than ever before.
There's two kinds of 5G. Both can leave 4G in the dust.
Meet the two types of 5G—5G mmWave and 5G sub-6. While both kinds of 5G represent a significant advancement from 4G, each leverages its own unique strengths to deliver next-level speed and connectivity across the nation.
5G is ready to impact your life right now
Many people are waiting for 5G to become available, but for millions of Americans, 5G is ready to go right now. With advancements made to 5G infrastructure and 5G networks across the country, consumers are finally ready to experience the technology's true promise—today. From blazing fast streaming to virtually lag-free Xbox games right on your phone2 , 5G connectivity takes the friction out of your fun and make everything just work.
The world demands the power of 5G
New cellular technology has always paved the way for breakthrough consumer experiences. 3G gave us internet on the go. 4G gave us game-changing ride sharing apps like Uber and Lyft. Now, as 5G networks are going live across the country, consumers are on the verge of experiences and services that only 5G-enabled devices can handle. Cloud gaming is just one example that has already arrived. Other experiences we can't even fathom are just around the bend.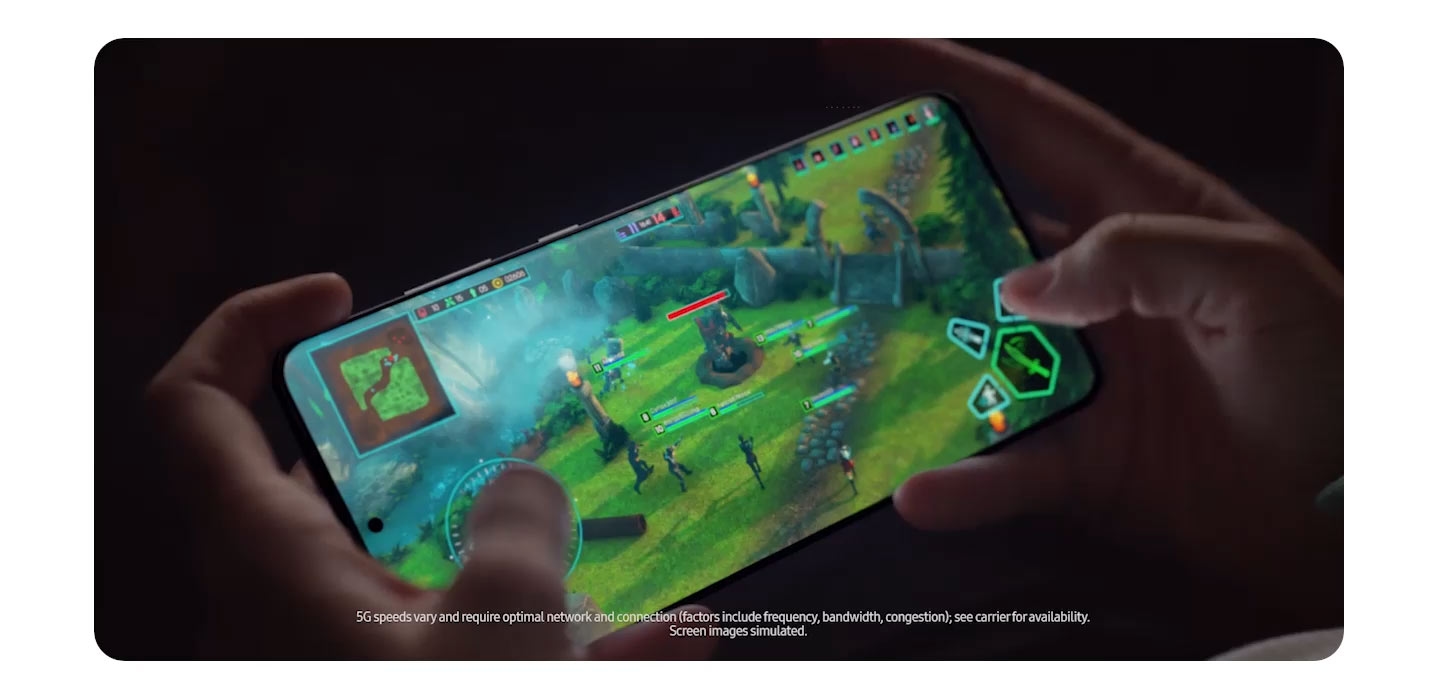 Samsung makes 5G happen
Samsung is no newcomer to the 5G story. For nearly 35 years, we've not only invested in building some of the world's most advanced smartphones, but researching and developing the evolving cellular technologies that make them tick. More than a decade has been focused on testing and perfecting our Samsung 5G vision: helping people to live smarter, more seamless lives, from the device in their pocket to the 5G-enabled products infused into their homes, to entire Smart Cities that power the world around them.
Curious to hear more about all the ways Samsung innovation is bringing 5G to life?
Τύπος Κινητού SmartPhone
SIM Single
Λειτουργικό Σύστημα Android
Έτος Κυκλοφορίας 2019
Επεξεργαστής & Μνήμη
Ισχύς Βασικού Επεξεργαστή 2,73 GHz
Πυρήνες Επεξεργαστή 2+2+4
RAM 8 GB
Μνήμη 256 GB
Card Slot Όχι
Οθόνη
Μέγεθος 6,7 "
Ανάλυση 3040 x 1440 pixels
Τύπος Dynamic AMOLED capacitive touchscreen, 16M colors
Χειρισμός Οθόνη αφής (Touch screen)
Βασική Κάμερα
Πίσω Κάμερα Τετραπλή
Ανάλυση Βασικής Κάμερας 12 MP
Ανάλυση Δεύτερης Βασικής Κάμερας 12 MP
Ανάλυση Τρίτης Βασικής Κάμερας 16MP
Flash Ναι
Selfie Κάμερα
Ανάλυση Selfie Κάμερας 10 MP
Διπλή Selfie Κάμερα Όχι
Selfie Flash Όχι
Δίκτυο & Συνδεσιμότητα
Δίκτυο Σύνδεσης 5G
Συνδεσιμότητα 3.5mm Jack, Bluetooth, NFC, USB (Type-C), Wi-Fi
Δείκτης SAR (Head) 0,26 W/kg
Μπαταρία
Χωρητικότητα 4500 mAh
Αποσπώμενη Όχι
Γρήγορη Φόρτιση Ναι
Ασύρματη Φόρτιση Ναι
Διάρκεια Αναμονής –
Διάρκεια Ομιλίας –
Ειδικά Χαρακτηριστικά
Προστασία Dust Resistant, Water Resistant
Πιστοποίηση Προστασίας IP68
Αισθητήρες Accelerometer, Proximity, Βαρόμετρο, Γυροσκόπιο, Πυξίδα
Δακτυλικό Αποτύπωμα Κάτω από την Οθόνη
Μέγεθος & Βάρος
Διαστάσεις 162,6 x 77,1 x 7,9 mm
Βάρος 198 gr
Εγγύηση Προμηθευτή 2 έτη.